More than a hundred new car models have been launched globally or domestically, with over a thousand companies actively participating, and an estimated over 1 million visitors
On April 18th, the ten day 2023 Shanghai Auto Show officially opened
At this year's world's first A-class auto show, electric and intelligent remain two major themes.
New energy products remain the largest industry direction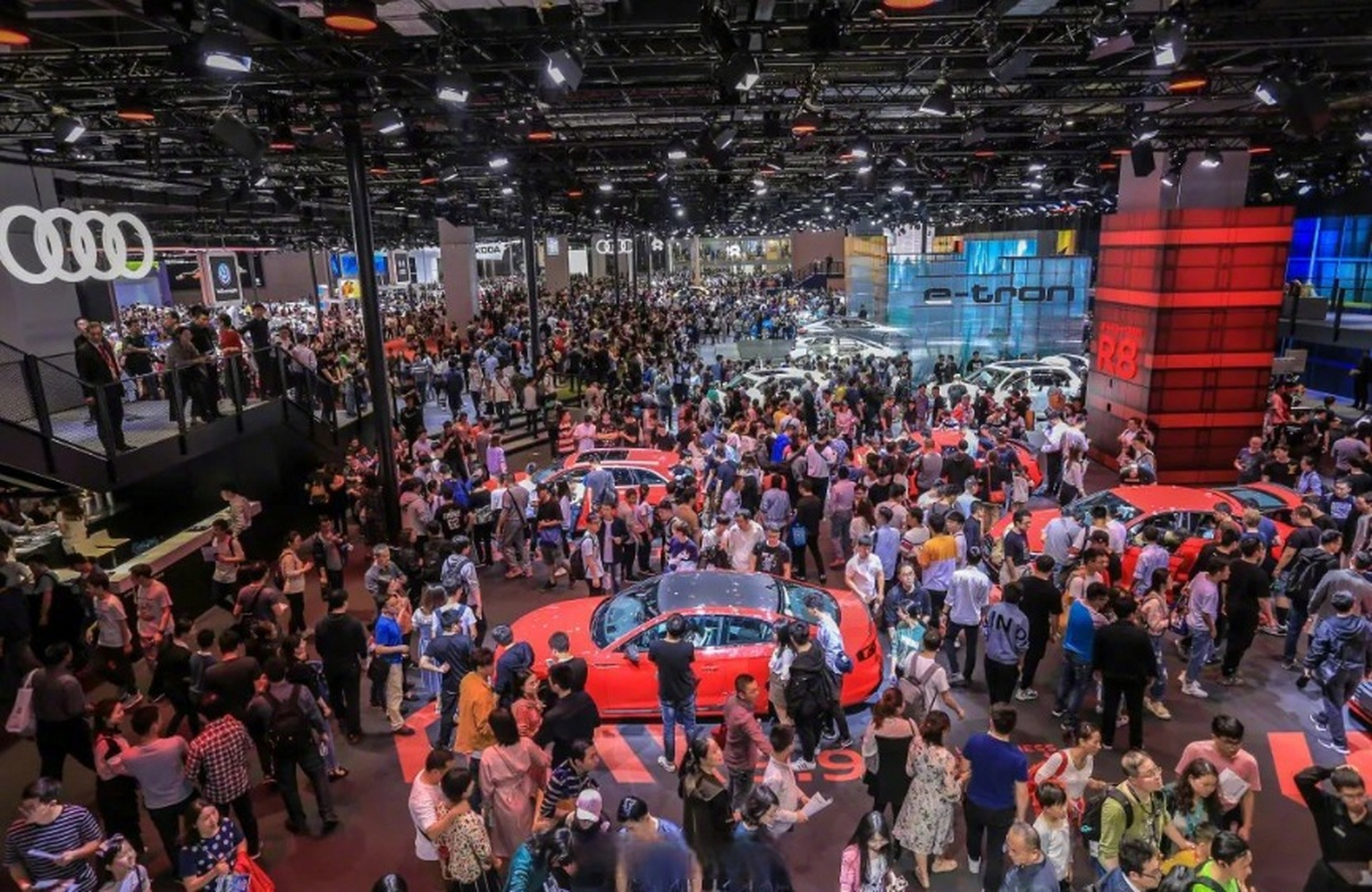 On the morning of April 18th, the 2023 Shanghai Auto Show was officially launched, attracting nearly 1000 companies from around the world with a total exhibition area of over 360000 square meters. Thirteen major exhibition halls, 1500 complete vehicles, and over a hundred global first cars were collectively unveiled. The theme of this year's Shanghai Auto Show is "Embracing the New Era of Automobile", with important goals around new trends such as "electrification, networking, intelligence, and sharing", showcasing the surging changes and new opportunities in the industry. Among them, new energy is undoubtedly the main race track for all parties.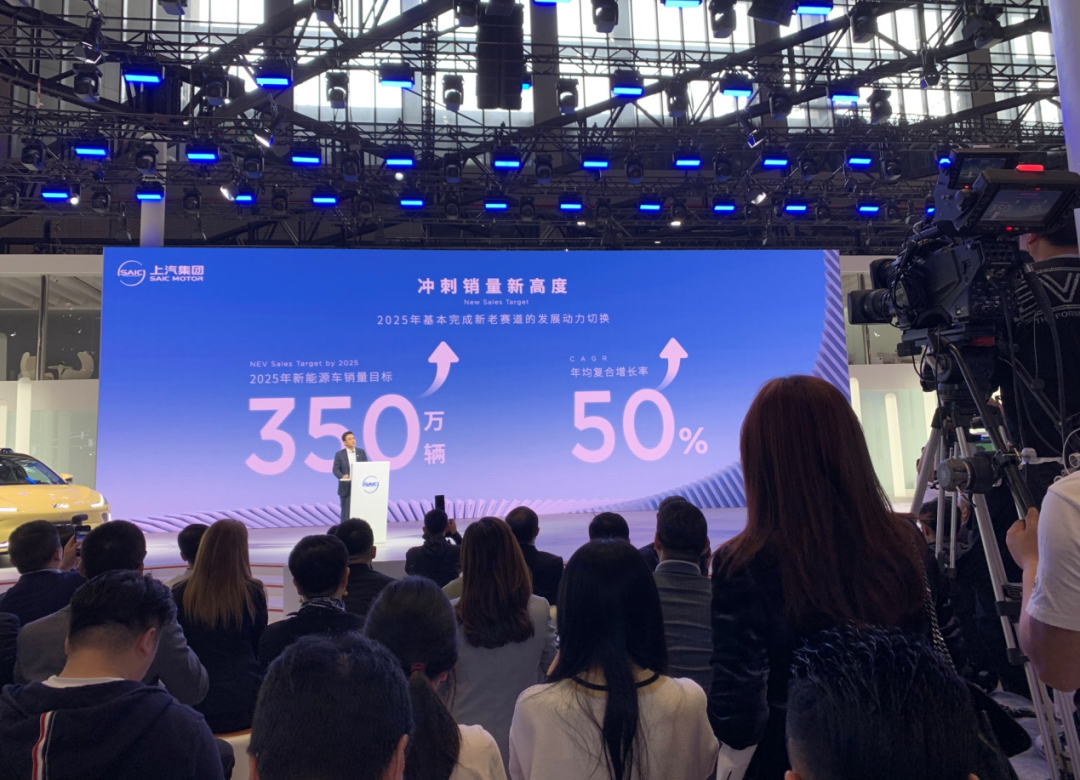 On April 18th, on-site release of SAIC Group's new energy strategy
As the car company in China that continues to maintain its top overall vehicle sales in 2022, SAIC Group grandly released its "Three Year Action Plan for the Development of New Energy Vehicles" on its booth on the morning of April 18th. By 2025, SAIC's annual sales of new energy vehicles will reach 3.5 million, a 2.5 fold increase from 2022, and the annual compound growth rate will reach 50%. Among them, the proportion of independent brands in the overall sales of new energy vehicles will reach 70%; Basically completed the development momentum switch between new and old tracks.
In addition, SAIC Group also stated that it will promote brand strategy optimization and provide users with diversified choices. Among them, Zhiji is positioned as a "high-end pure electric intelligent car brand", Feifan and Roewe will become the "preferred new energy vehicle brands" for Chinese consumers, and MG is positioned as a "globally renowned car brand". In the next three years, Zhiji will launch four new models, while Feifan, Roewe, and MG will release more than 13 new energy products.
In addition, in terms of joint venture brands of SAIC Group, SAIC General Motors and SAIC Volkswagen, which have relatively slow pace of new energy transformation in recent years, also focused on showcasing dozens of their new energy products at this auto show. Popular models include Cadillac's pure electric LYRIQ Regal, Buick ELECTRA E5, and the next concept car of the Volkswagen brand's ID. model - ID. Next.
In terms of other car companies, luxury brands such as BMW, Mercedes Benz, and Audi actively embrace the wave of new energy in China (4.100, -0.02, -0.49%), accelerating the process of electrification. Among them, BMW Group debuted at the Shanghai Auto Show with multiple important electric products. The Audi A6 Avant e-tron concept car and Audi Urbansphere concept car, built on the PPE luxury pure electric platform, completed their domestic debut at the Shanghai Auto Show. Volvo's all-new pure electric flagship SUV EX90 has made its debut in China.
In addition, at this year's Shanghai Auto Show, BYD released three heavyweight models, including the entry-level pure electric vehicle Seagull based on the e3.0 platform, the second model under the mid to high-end brand Tengshi, the N7, and the second model under the high-end brand Yangwang, the U9. Changan Automobile's Deep Blue S7 debuted. Geely Motors has released the first model of the Galaxy brand, the L7. Great Wall Motor has made a strong landing with nearly 30 products, of which more than 15 are new energy vehicles, including Haval Xiaolong MAX, Wei Brand Blue Mountain DHT-PHEV, Tank 500 PHEV, Oula 2023 Good Cat GT and other products that first took the new Hi4.
All parties work together to achieve "Future Intelligent Travel"
With the development of mobile travel towards the direction of highly intelligent, electrified and software defined cars, the software architecture, development and management processes related to car design, manufacturing, maintenance and upgrading need to be thoroughly changed. In this context, automotive supply chain enterprises also aim to bring related new technologies, solutions, and products to future intelligent transportation.
At this auto show, more than half of the world's top 100 suppliers such as Bosch, Electric Equipment, ZF, and Amboff participated, leading the latest trend in the development of key automotive technologies. Famous domestic enterprises such as Huawei Digital Energy and Desai Xiwei will showcase the latest automotive related products and technologies to the automotive industry. In addition, nearly a hundred related leading enterprises, including Baidu, Huawei, Horizon, Black Sesame, China Mobile, Unity China, Xijing, and Siwei Tuxin, have collectively appeared.
MINIEYE, a well-known intelligent driving enterprise, debuted at this auto show with two mass-produced models and a full range of products. Focusing on the two core business areas of intelligent driving and intelligent cockpit, it comprehensively showcases key scenarios of "driving, parking, and cabin" for intelligent vehicles, with a full stack of self-developed software and hardware technologies and mass-produced solutions.
The person in charge of Youjia Innovation introduced to the reporter that this time the company has brought two mass-produced and delivered models. One of them is equipped with a self-developed integrated parking system based on domain control, which can achieve L2+level intelligent driving system functions. The other is equipped with a fully stack self-developed intelligent cockpit DMS (Fatigue Driving Monitoring System) solution, which can achieve fatigue monitoring and safety takeover functions. In addition, the successful delivery of Youjia Innovation also includes advanced intelligent driving solutions that support high-speed NOA (Automatic Assisted Navigation Driving). As of now, Youjia Innovation has reached cooperation with more than 20 main engine manufacturers in the field of passenger vehicles, including Nezha, NIO, Chery, etc., and has mass-produced and targeted nearly a hundred vehicle models.
At the Ambofu booth, the relevant person in charge introduced that the innovation highlights of this Ambofu exhibition include the next generation of software architecture and tools, new electrification products, the latest generation of ADAS (Advanced Driving Assistance System) platform, etc. Among them, the company showcases the industry's first end-to-end cloud native DevOps platform, which can analyze and summarize the data of all vehicle users it covers onto the same software development, testing, and deployment platform. At the same time, it utilizes the results generated by built-in data analysis tools to continuously improve existing vehicles and future new models. In addition, in a previous interview with reporters, Anbofu predicted that "the L4 (completely unmanned intelligent driving) level intelligent driving is expected to arrive much faster than consumer expectations".
Independent brands compete on the "luxury track"
It is worth noting that on the 18th, a reporter from China Securities News learned at the auto show that Chinese domestic brands are accelerating their layout in mid to high-end models and even luxury car tracks.
According to reports, the two products of SAIC's Zhiji brand have jumped to second place in the recent ranking of domestic pure electric SUV sales of over 300000 yuan, second only to a hot selling pure electric product of BMW brand. In relevant rankings, high-end products such as Avita, NIO, and Xiaopeng also rank high.
BYD's high-end brand "Yangwang" made its debut as an independent brand at the auto show, receiving collective attention from media flash.
Industry insiders say that compared to luxury brands such as BBA, domestic independent brands are currently catching up in the luxury car segment market and starting a new round of acceleration.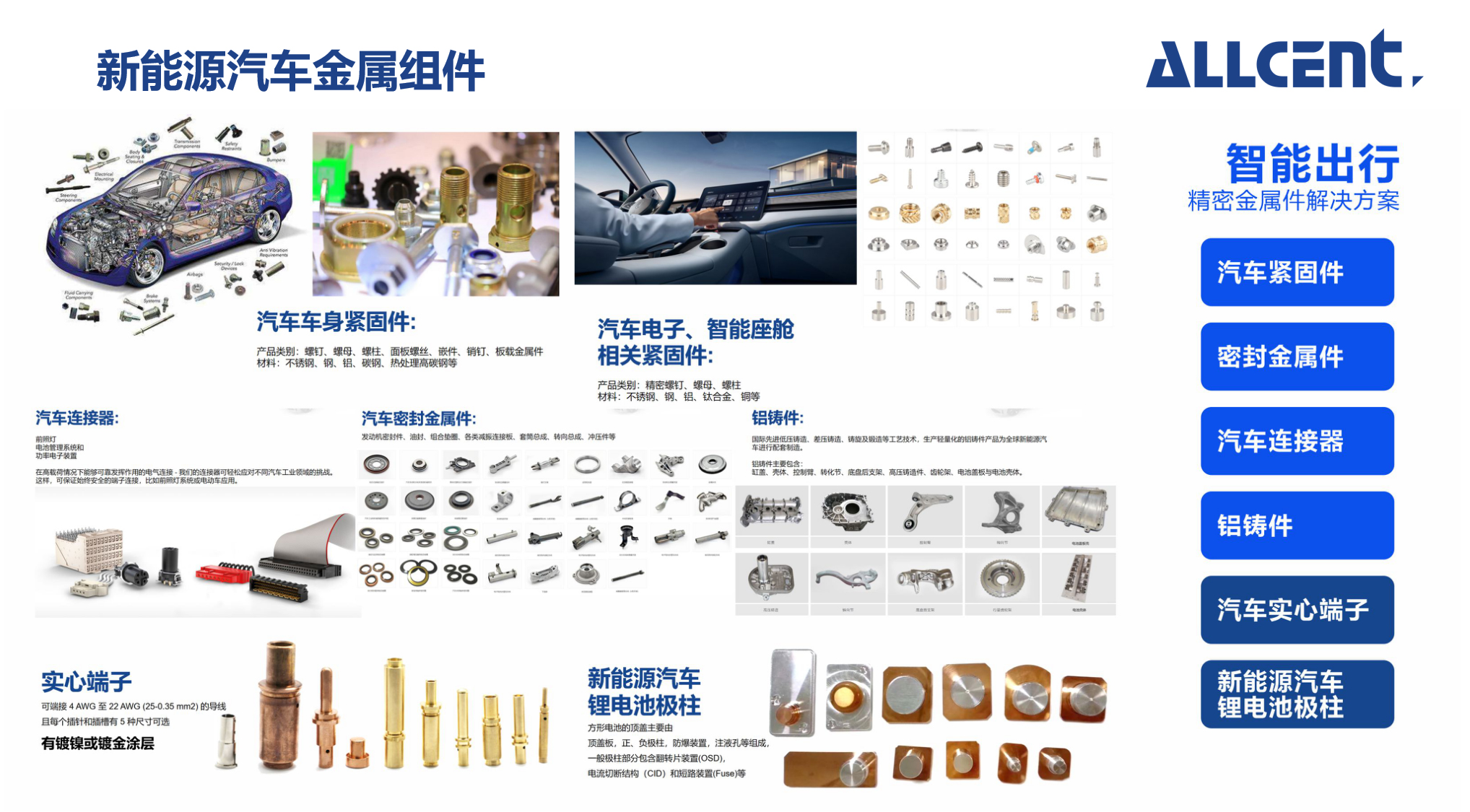 Our ALLCENT Technology Company will also fully participate in the race of new energy vehicles and metal products. Welcome to consult and cooperate!!!